Marconi Put Wellfleet On The Map
Posted by Mark Washburn on Sunday, January 18, 2015 at 8:51 AM
By Mark Washburn / January 18, 2015
Comment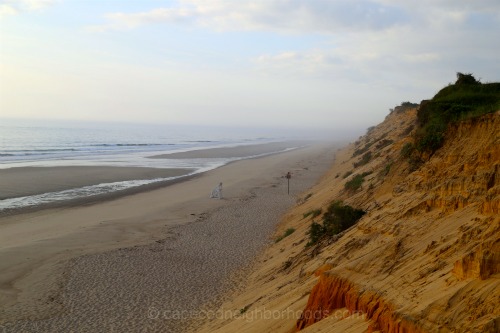 With scenic views, trails and bicycle paths, Marconi Beach offers a unique location in Wellfleet. One of the area's main attractions, Marconi offers a visitor fabulous views of the Outer Cape, along with the bay and ocean. One of the best places to do it is from the Marconi Station observation platform.
Other options in the area include taking the Atlantic White Cedar Swamp Trail. This mile-and-a-half nature trail goes down into a swampy area, home of red maple and Atlantic white cedar trees. You can also expect to be treated with a number of different plants, including stunted pitch pines and bear oak, heathlands, taller pitch pines and white cedar-red maples.
If you choose to take on the outer beach, make note of its extremely steep stairs to navigate the sand cliff. Walking on the beach, or swimming in the water, though, the area provides a serene location to get away from it all. You'll want to head above the beach to take in the breathtaking views of the sea and bay. This is where the platform sits, allowing visitors to see south toward Eastham, and north toward Truro.
If you wonder how it all began, the area gets its name by from a young Italian inventor named Guglielmo Marconi. He's famed for competing the very first U.S. to England, transatlantic wireless communication. He used the Wellfleet Station location to showcase his feat, transmitting messages between England's King Edward VII and then U.S. President, Theodore Roosevelt.
Marconi was credited for saving lives several years later when an ocean liner used his technology to send out a distress signal after colliding with another ship. Marconi eventually won the Nobel Prize for Physics.
The inventor wanted the location because it overlooked the ocean with an elevated table. It was also bare. That's the same reason why the U.S. government wanted the site for Camp Wellfleet during World War II. During this time, it was an artillery training facility. When there was no longer a need for it, the National Park Service took control.
With a rich history that put Wellfleet on the map, the site now not only marks an important site in communication, but it also serves as a destination for people simply hoping to take in the beautiful and peaceful surroundings. If you want to visit, you'll find Marconi Beach off Route 6 in Wellfleet, about six miles, or so, north of Salt Pond Visitor Center.