Long Point Village – Provincetown's Lost Neighborhood
Posted by Mark Washburn on Sunday, February 6, 2022 at 6:59 AM
By Mark Washburn / February 6, 2022
Comment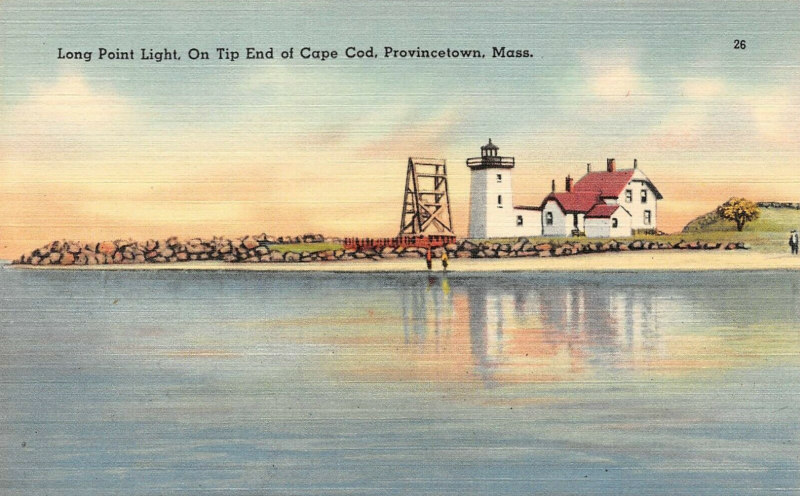 Once known as a bustling fishing village, the Long Point Village of today is virtually obsolete. Except for an old lighthouse, it's hard to envision a time this remote location served as home to hundreds of people.
Situated at the very tip of Cape Cod, Long Point is mostly just memories today, but it's also Provincetown's lost neighborhood. There was a time when buildings went up by the dozens.
The very first home in Long Point Village was constructed in the early 1800s. By the 1820s, the original Long Point Lighthouse was built to help guide boats into harbor.
A couple of decades later a school and community church went up. The village continued to grow over the years, eventually adding in a post office, bakery and a general store.
By the mid 1800s, there were around 200 people living in Long Point Village. The remote location wasn't exactly easy to reach, though.
At the time, the only way to get to Long Point Village was to travel back and forth over sand dunes. When fishing became less fruitful and the local salt works less profitable, people began moving away.
Even that wasn't easy. Some people literally floated their homes across the harbor and resettled in the West End of Provincetown.
Some of those floating homes still stand in Provincetown today, designated by white and blue plaques. By the start of the Civil War, just two homes and a lighthouse were standing in Long Point Village.
One of the homes was used by the military and troops were stationed at Long Point for a time. When the war ended, people moved on once again.
These days you won't see much left in the area where Long Point Village once stood, although it may still be possible to spot a few pilings and the remains of a brig hull along the neighborhood's eastern shore. As one of the Cape's most remote locations even today, the most visible reminder still standing is the old lighthouse.
Explore Provincetown Neighborhoods