Just what is the Chatham Loop?
Posted by Mark Washburn on Monday, December 29, 2014 at 2:43 PM
By Mark Washburn / December 29, 2014
Comment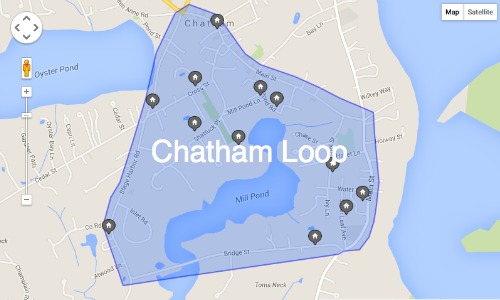 How would you like to live in a place that offers stunning views of Chatham Harbor and Nauset Beach, deep-water access to the open waters of the Atlantic and Nantucket Sound and within a short walk to town. That's possible when you set your sites upon the Chatham Loop.

So, what exactly is Chatham Loop? The answer to that goes back decades, and even centuries. The Loop dates back to the time when settler William Nickerson first purchased the area of Stage Neck from the Monomoyick Indians. This set the stage for settlement of one of the first areas of Chatham.

The Chatham Loop of today offers exclusive properties, circling Little Mill Pond and Mill Pond. It includes Bridge Street, Stage Harbor Road and Main Street. It also passes by the elite neighborhoods of Oyster Pond River, Harbor Hill, Sears Point and Stage Harbor in the southeastern side of Chatham.

The perimeter roads of The Loop include mostly low-density residential areas. The vegetation is so dense in the area, a majority of the homes are hard to make out from the road. The interior roads of The Loop are very narrow. This is the location where you will find a number of different housing styles, including Colonial, Greek and Gothic Revival.

The Loop still offers a sense of historical perspective in its historic monuments too, which still stand in the area. These include Atwood House on Stage Harbor Road and Captain Fred Eldridge House on Champlain Road. Both homes serve as examples of the one-and-a-half story homes common in the 18th century.

It is a combination of these historical sites, plus some of the oldest homes in Chatham, which now make up The Loop. Additionally, the area offers impressive views of both Stage Harbor and the Atlantic Ocean. Inside The Loop, you will also find the tidal landscapes of Mill Pond and Mitchell River. As well, the history of the area also dates back to the 1782 Battle of Chatham Harbor. This marks Chatham's involvement in the Revolutionary War.

While farming was once predominant in the region, the economy of Chatham eventually rose with the growth of maritime industries. This also led to an influx of summer visitors to the area, and the building of several inns and hotels, as well as large sprawling summer homes for residents. Today, the area still offers a fantastic opportunity for visitors to gain perspective of the area, and homeowners to enjoy a unique property rich with history.
Chatham Loop Homes For Sale
Chatham Loop Real Estate