Indian Ponds in Marstons Mills
Posted by Mark Washburn on Friday, June 21, 2019 at 5:40 PM
By Mark Washburn / June 21, 2019
Comment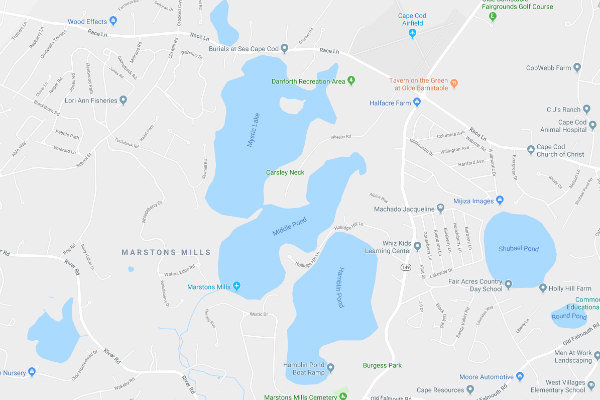 While Cape Cod's known for its beautiful beaches and waterfront possibilities, some of its inland sites may prove just as enticing. Locals know that some of the best swimming, kayaking and fishing is possible on one of the many kettle ponds that dot the area.
Made up of a total of three interconnected ponds, Indian Ponds in Marstons Mills is an especially popular location for boating, fishing and swimming all year long. A joining of Mystic Lake, Middle Pond and Hamblin Pond, the freshwater kettle ponds have been a part of the local community for generations.
Located in the west Barnstable village of Marstons Mills, each pond measures more than 100-acres in size. You'll also find a nice selection of unique, waterfront homes surrounding the ponds, as well. Some of these single-family homes boast private decks overlooking the ponds, while others treat owners to floating docks and a generous amount of outdoor living space.
Hamblin Pond, in particular, has a resident-only beach, with a roped-off swimming area and plenty of room for parking. While you won't find lifeguards at Hamblin Pond, you will find an ideal location, especially for young children to take a dip in the warm, clear water.
In comparison, Middle Pond provides a popular spot for fishing. The pond offers more than two miles of shoreline and easy access to the town boat ramp.
The northernmost pond of the Indian Ponds is Mystic Lake. The largest of the three ponds, it connects up to Middle Pond via a shallow channel.
The ponds are all protected and preserved by the Indian Ponds Association. Members strive to not only retain the ponds and their beauty, but also educate the public about the necessity of maintaining natural resources tied to the ponds, including the birds and wildlife that make a home in the Indian Ponds region.
Explore Cape Cod Pond Neighborhoods