Hyannis Site of Movie Set
Posted by Mark Washburn on Friday, January 14, 2022 at 5:33 PM
By Mark Washburn / January 14, 2022
Comment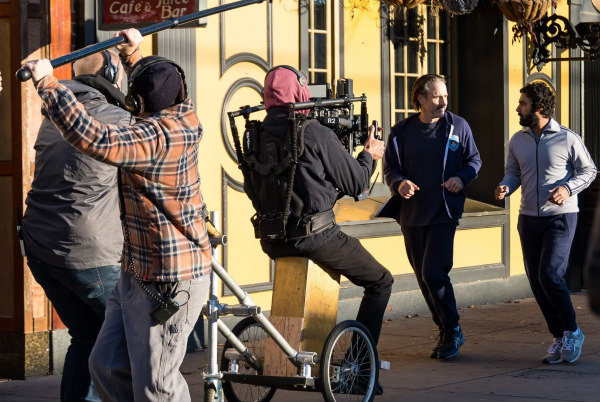 Cape Cod may be a favorite of tourists during the summer months, but it seems Hyannis Port recently brought in the crowds for a different reason. This affluent summer community recently served as the real life set for a new movie.
Movie crews were in town in November and December to film "The Storied Life of A.J. Fikry". The independent movie has been filming in several Mid-Cape locations.
In Hyannis Port, crews filmed inside a yellow house and also out in its yard. In the movie, it's supposed to be the home of one of the characters.
Lucy Hale was cast as the love interest of Kunal Nayyar, who plays a widowed bookstore owner in the movie named A.J. Fikry. The film is based on a 2014 bestselling book, following the life of Nayyar's character, who adopts a child left at his store.
The cast also includes David Arquette as a police officer, Scott Foley as a successful author and Christine Hendricks as Fikry's sister-in-law. Movie crews have also been spotted on Pearl Street and Main Street in Hyannis.
The movie additionally has some scenes at the Hyannis Public Library, which served as a police station for movie shoots. As well, they also filmed at the Parnassus Book Service in Yarmouth Port, which was used as a bookstore in the movie. A fictional wedding was filmed at the Lighthouse Inn in West Dennis.
The characters in the movie live on a fictional island called Alice Island that's supposed to be a ferry ride away from Hyannis. To accomplish this, filmmakers substituted the Mid-Cape. Everything was shot in present time, but the movie actually takes place over 15 years of the characters' lives.
In all, the movie was shot over just 20 days, involving around 25 actors and 65 crew members. "The Storied Life of A.J. Fikry" could be in theaters in about a year.
Explore Barnstable Villages