Hopper's Years in Gloucester Marked His Art and His Marriage
Posted by Mark Washburn on Friday, August 25, 2023 at 4:08:54 PM
By Mark Washburn / August 25, 2023
Comment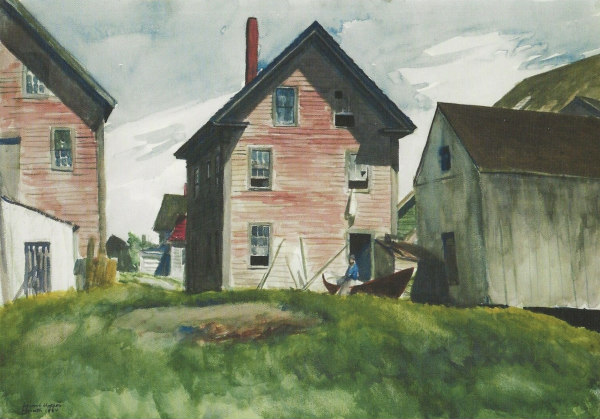 Well known today for his oil paintings and watercolors, artist Edward Hopper originally hailed from New York, but it was his years in Gloucester that marked his art and his marriage. It's said the painter first came to Gloucester in the early 1900s in search of inspiration, and it appears he found it.
Reports suggest it was in Gloucester that Hopper did his very first plein air oil paintings. It was also Gloucester where Hopper later brought a fellow artist who would eventually become his wife. It's said she was the one to encourage him to use watercolors and accompanied him on several summer trips to Cape Cod over the years.
It was shortly after the two got married that Hopper gained an interest in painting captain houses. These days, you can see Hopper's work as part of a new exhibit at Cape Ann Museum, including three watercolors of houses named for their former owners. It was the watercolor houses and landscapes which helped launch Hopper's successful career as an artist.
The final summer trip to Gloucester the couple made occurred in 1928, when the duo stayed until October. This timeline becomes significant in one of his oil paintings, which reflects the changing hues of fall.
Over a 16-year span, it's said Hopper's artwork can be viewed as proof of sorts of the transformation and modernization of Gloucester. The exhibition opened earlier this summer to coincide with Hopper's birthday and runs through mid-October.
The dates also happen to mark 100 years since the artist originally made what has become such a significant visit to Gloucester, one which shaped his future as a painter and elevated his career. The special exhibition of Hopper's work includes dozens of prints, drawings, and paintings that are on loan from several different museums and institutions, but mostly from the Whitney Museum of American Art in New York.