Hingham's Melville Garden was Popular Picnic Spot
Posted by Mark Washburn on Friday, November 4, 2022 at 6:07:28 PM
By Mark Washburn / November 4, 2022
Comment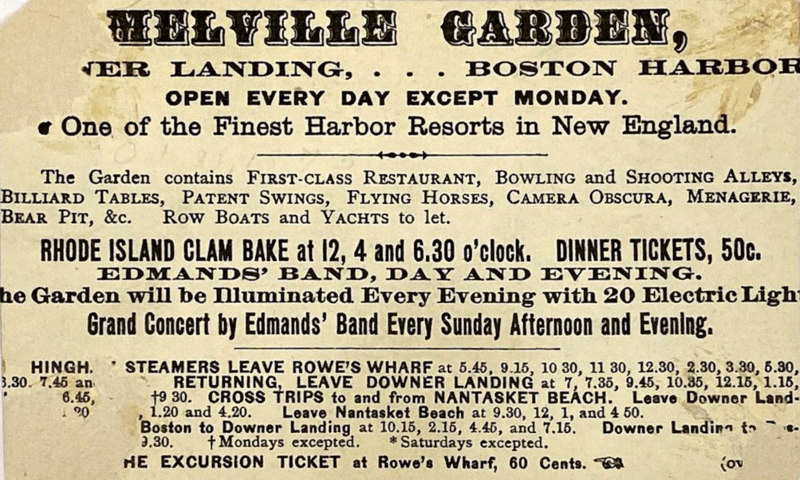 The South Shore is full of history, but there's one spot that's perhaps lesser known to visitors for what it used to represent. It certainly didn't used to be that way, though.
Hingham's Melville Garden was once a truly special and unique place that people flocked to. It was a garden and resort that was once known to attract tens of thousands of Bostonians, by way of steamships leaving from Boston Harbor.
The ships dropped off visitors at Downer Landing, which is where we now find Hingham Yacht Club. Once visitors arrived, they were in for an afternoon and evening filled with everything from dancing and bowling to fine dining and even fireworks.
The tourist destination was essentially a Victorian-era amusement park. Melville Garden had its own hotel, a clambake house, and a music hall.
There was also a merry-go-round, a monkey cage, and even a bear pit on the property. The large resort was also the place to go for boating and fishing.
In the summer of 1877 alone, a dozen steamships came to Melville Garden daily, filled with around 70,000 people throughout the season. For a time, the location was an extremely popular get-away location for Bostonians.
Sadly, a death in the family years later led to the closing of Melville Garden in the 1890s, and its buildings were torn down. The original owner of Melville Garden came from Dorchester, where he made his money in kerosene and by investing in oil fields.
When he purchased 40-acres of land on Crow Point, he first planned to construct a refinery. Instead, he created a garden of sorts, where everyone was welcome to gather.
He named the location to honor his wife's grandfather, Thomas Melville. He then named the roads of Crow Point after other family members and fellow abolitionists of the time.
Explore Hingham Neighborhoods