Helen Keller in Brewster
Posted by Mark Washburn on Friday, October 30, 2015 at 11:08 AM
By Mark Washburn / October 30, 2015
Comment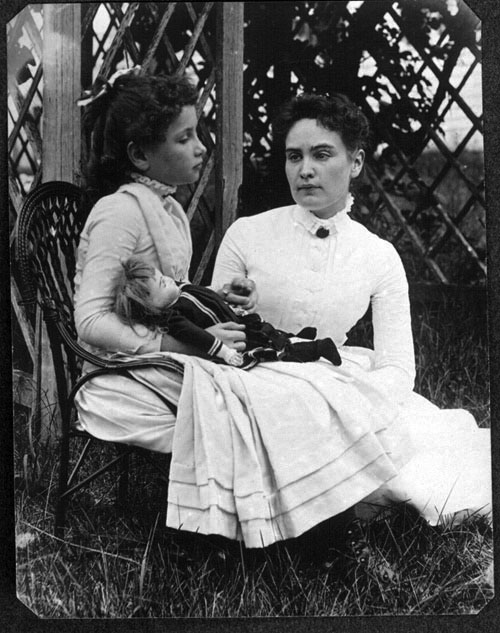 By Family member of Thaxter P. Spencer, now part of the R. Stanton Avery Special Collections, at the New England Historic Genealogical Society.
A single, historic photograph not only unlocks the key to details about one of America's best-known activists and advocates for those with disabilities, but also portrays the historic side of Cape Cod. The Brewster Historical Society currently houses one of the most famous and earliest photographs of Helen Keller and her teacher, Anne Sullivan.
It was Sullivan who taught Keller, who lost her ability to see and hear as a young child, to communicate by spelling words on her hand. The famous photograph of the two shows a vacation to Brewster well more than a century ago. In it, the woman and young child were vacationing at the Freeman-Hopkins House, located at 1491 Main Street. It just so happens that Sullivan was a friend of the widow of a sea captain who also had a home in Brewster. As well, that woman, Sophia Hopkins, also served as the housemother for the Perkins School for the Blind, which at the time Keller attended.

What's even more unique about the 1888-dated photograph is that it also includes a doll. The word "doll" was the very first word then six-year-old Helen Keller learned to spell, with the use of her teacher's hand.

In 2008 the photograph received a great deal of attention when a print of it was presented to the New England Historical Genealogical Society. All the attention caught the eye of a woman named Alys Walker who recognized the photograph as one a relative had taken. Remarkably, Walker discovered that she still owned its very first print. In addition, her picture included a note written by, and signed by, Helen Keller herself. After making the discovery, Walker also donated her photograph and letter to the museum.

It's estimate that the photograph may be worth about $10,000 and the letter another $2,000. While the photo is thought to have been the earliest known picture of Keller and Sullivan together, they remained inseparable until the teacher passed away in 1936.

Keller is regarded as the first blind and deaf person to ever graduate from college, alongside her teacher. She went on to co-found the American Civil Liberties Union as well as the Massachusetts Commission for the Blind. Keller was also presented the Presidential Medal of Freedom by President Lyndon B. Johnson in 1964.

As for those living on Cape Cod, though, it is the memories of Helen Keller visiting that will forever hold significance, including the residences she stayed at, along with the places she visited, like Breakwater Beach.