Have a Great Night Out at the Chatham Orpheum Theater
Posted by Mark Washburn on Monday, May 18, 2015 at 11:12 PM
By Mark Washburn / May 18, 2015
Comment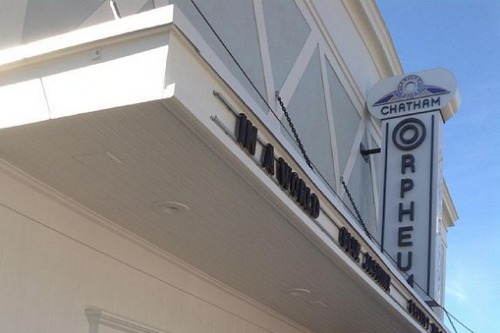 If you're looking for a great night out in Chatham, head to the historic Chatham Orpheum Theater. At nearly 100 years old, the theater serves an important role in not only the history of the region, but also in the future. Currently plans are well underway to keep the famous site in operation for generations to come.

The story of this majestic theater dates back almost a century. Originally constructed in 1916, in 1987 the theater closed its doors to the public. It stayed closed until volunteers raised enough money to reopen the location and revitalize it just a couple of years ago. In all, volunteers raised more than three-and-a-half million dollars in grants and donations to get the doors to the two-screen theater back open again in 2013, and the movies back on the screen.

The movie house is now the place to go for major first-run movie releases, plus documentaries and art house films. In the past, the theater has paired such releases as the original 1975 "Jaws" with educational films about white sharks. In addition, the theater offers its Sensory Film Series every month. Catered towards those with autism, these films are void of advertising, plus the lights are up and the volume is turned down, making sure that all guests are comfortable.

As for food and drink, the Chatham Orpheum Theater offers traditional movie theater concessions, plus an expanded menu for visitors. This includes a full café, with both beer and wine. The upstairs café includes around a dozen tables plus room at the bar for even more patrons.

Today, this non-profit theater is operating in full swing, but still accepting donations to pay down what's left of the construction costs incurred by the reopening. The money the theater brings in for concessions and ticket sales only covers the costs needed for daily operations. That's why tax-deductible donations are still be accepted, and can be made via the Chatham Orpheum Theater website or via traditional mail.

If you want to experience the historic movie house yourself, you'll find the Chatham Orpheum Theater located conveniently right along Main Street in Chatham. You can purchase tickets either at the box office or via the online ticketing service.

No matter how you choose to support the Chatham Orpheum Theater, you'll be glad you played a part in helping to deliver this amazing location a little closer to its original glory.