Great Cape Cod Fishing Spots
Posted by Mark Washburn on Wednesday, April 15, 2015 at 9:56 PM
By Mark Washburn / April 15, 2015
Comment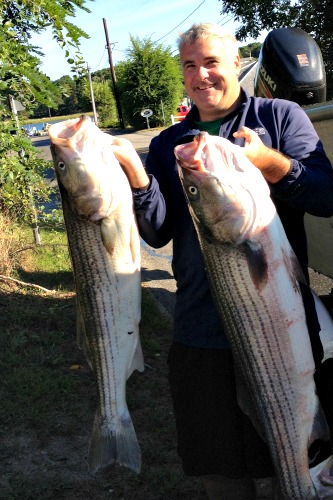 If you've ever wanted to take in some world-class fishing, or perhaps just cast a line at one of the 300+ freshwater lakes and ponds on Cape Cod, now is the time! The area is richly diverse with a large variety of fish and just as many fantastic fishing spots.
Cape Cod is a popular location to catch Bluefish, Tautog, Striped Bass and Mackerel during the months of spring, summer and fall.
Bass River Bridge
A well-known spot for fishing in the Mid-Cape region, Bass River Bridge is the man-made separation for the towns of Yarmouth and Dennis. It's a good location to snag Bluefish, Striped Bass and Winter Flounder. You have the best opportunity if you fish where the tide is flowing away on the bridge's down tide side. Parking is easy right on the bridge.
Smuggler's Beach Fishing Pier
Located right at the mouth of the Bass River, you'll find the Smuggler's Beach fishing pier. This is a prime location for families to fish for Bluefish, fluke, flounder and Striped Bass. Along with the pier, you can also fish off the rock embankment or jetty. Fishing is best a couple of hours before high tide, as well as after high tide.
Parker's River
As for Yarmouth, head over to Parker's River to a fishing pier found along the northern side of the Route 28 Bridge. This popular location includes several parking spaces, and is the place to go to catch small Bluefish, flounder, Striped Bass and fluke. It's common for people to fish on both the southern and northern sides of the bridge.
Scargo Lake
If you're fishing for trout, head to Scargo Lake in Dennis. This is the town's only routinely stocked trout pond. The lake is pretty clear and you can wade out from the shore. You can also launch small canoes and light draft boats from the lake's boat ramp.
Freshwater fishing
When it comes to freshwater fishing, you'll find great places for trout fishing with a number of annually stocked ponds. You may also find largemouth and smallmouth bass in some of the area's kettle ponds. Other options include catching catfish, yellow perch and pickerel. Salmon is also stocked in some of the ponds.
Of course, while these are some of the prime spots, there are hundreds of additional locations that make great fishing spots along the Cape. Take a suggestion or two from the locals, or just set out to find your own perfect spot!
Search Cape Cod Homes With Boat Docks