Gateway to Provincetown
Posted by Mark Washburn on Monday, August 14, 2023 at 2:19:46 PM
By Mark Washburn / August 14, 2023
Comment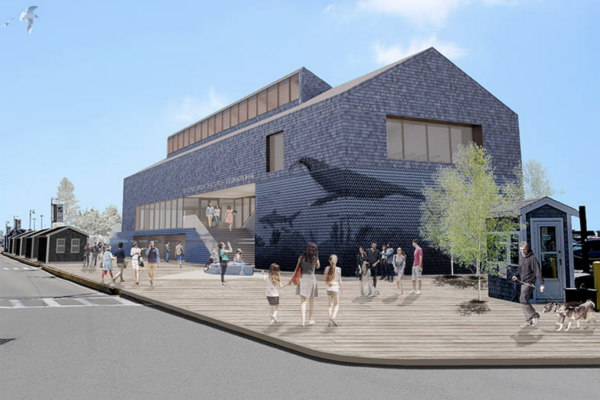 A proposed visitor center that could someday serve as a "gateway to Provincetown", is a big step closer to construction. A federal agency just gave the go-ahead for millions of dollars to build the center for the Stellwagen Bank National Marine Sanctuary in Provincetown.
The NOAA is investing $15 million to construct the center, with those funds coming from the Inflation Reduction Act. The federal agency manages the underwater reserve, which stretches from Jeffrey's Ledge to Race Point Channel.
Leaders and officials from the Town of Provincetown, the Center for Coastal Studies and the Stellwagen Bank National Marine Sanctuary are working together to bring the visitor center to reality. The original proposal for a visitor center first came about seven years ago, while a concept design study was completed two years ago.
The project still needs to go through a town permitting process, but there is a location. The idea is to put it next to MacMillan Pier, off Ryder Street Extension. If coming via ferry from Plymouth or Boston, it will mean a gateway into the town, or a gateway to the sanctuary with some of the pier's whale watching boats.
At one point, it was estimated the center would cost $21 million, but it's likely the cost could be even higher. Even with the $15 million from NOAA, there will still likely be the need for some grants, plus those behind the center still need to do more design and architectural work.
The sanctuary has not ever had a dedicated visitor center, but instead mostly relies on signs, exhibits, and informational kiosks. The expectation is that a future center would have interactive exhibits and some community meeting space.
Not only is the sanctuary a protected habitat, but local researchers study whales and the migratory patterns of sea birds. In addition, they study climate change.
Explore Provincetown Neighborhoods