Fingers of West Dennis Boating Neighborhood
Posted by Mark Washburn on Thursday, August 20, 2015 at 9:16 PM
By Mark Washburn / August 20, 2015
Comment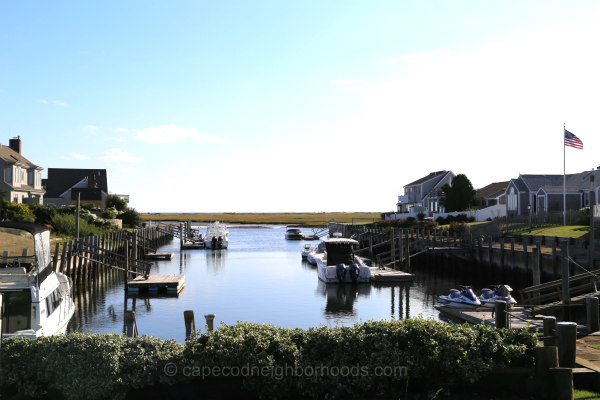 Designed with a boating lifestyle in mind, the Fingers of West Dennis is one of the premiere neighborhoods of Cape Cod. The homes are uniquely constructed around eight parallel and man-made canals in West Dennis. Not far from the mouth of the Bass River, these Weir Creek homes are located just to the north of West Dennis Beach, bordered by Surfside Road and Merchant Avenue.

Because a majority of the properties include a deep-water dock in their private backyards, this is truly a boating community. While many of the properties are priced around the one million dollar mark, this exclusive neighborhood is also a prime location for getting around the West Dennis area. The homes are not far by boat to the open waters of Nantucket Sound or to the nearby West Dennis Yacht Club.

The club is known for its numerous social activities and events held throughout the year, as well as the WDYC Invitational Regatta planned each summer and the King Fishing Tournament. In addition, the site includes a clubhouse, boat ramp and docks. While some members have their own boats, like most residents of The Fingers development do, other members use the club-owned sailboats, as well as make use of the adult and kid-friendly sailing programs.

Also close to West Dennis Beach, popular for kite boarding and windsurfing, the Fingers Development provides easy access to more than a mile of shoreline. One of the most popular saltwater beaches in the area, West Dennis Beach is so large that it seldom feels too crowded, even during the busy summer season. It also includes a playground and a decent-sized parking lot, should you decide to visit by car.

While the water and nearby attractions are a big draw of living within The Fingers community, so are the homes, themselves. With Cape Cod-style architecture, the homes exude a true sense of a New England lifestyle. Many of the homes capitalize on their unique backyard space, with large decks built out to admire the scenic surroundings. In addition, some properties include other extras like outdoor showers, spacious lawns and plenty of room for storing additional watercraft.

Offering panoramic views of Nantucket Sound and West Dennis Harbor, the location of The Fingers in West Dennis is hard to beat. If you are actively involved in boating and sailing, you'll want to take a second look at any available properties within this fantastic community.