Finest Hours Lifeboat on Display in Orleans
Posted by Mark Washburn on Wednesday, October 12, 2016 at 7:46 PM
By Mark Washburn / October 12, 2016
Comment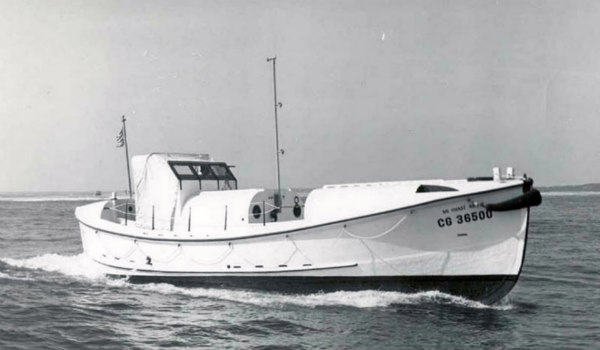 CG 36500 (photo courtesy of the Orleans Historical Society)
On display in Orleans, the lifeboat that spurred the real-life drama "The Finest Hours" offers up a true lesson in Cape Cod history. First constructed in the mid 1940s, the 36-foot CG36500 lifeboat earned its spot in history with a rescue off the coast of Chatham in the early 50s. Widely considered one of the U.S. Coast Guard's most daring rescues, the boat was used to save the lives of 32 crewmen stranded during a storm on board what remained of the shipwrecked SS Pendleton.

Eventually taken out of service in the late 1960s, the lifeboat was then offered up to the National Park Service to be used as part of an exhibit housed at Cape Cod National Seashore. It was then deeded over to the Orleans Historical Society, and volunteers from surrounding communities joined together to begin the process of restoring the vessel to its original form. After six months of work the boat was finally re-launched as part of a public ceremony, including one of the original men that successfully led the daring rescue of the stranded crew decades ago.

These days the lifeboat serves as a museum boat, on display to the public and listed on the National Register of Historic Places. From the months of June through September visitors can see the vessel at Rock Harbor, located at the end of the parking area for Rock Harbor Road. Each spring crews remove the boat from the water to perform general upkeep and maintenance on the historic lifeboat.

The "Finest Hours" lifeboat remains the only boat of its kind still on the east coast and one of just a few in the entire country. During the summer months special weekend tours and onboard talks are also scheduled. As well, the Orleans Historical Society Museum houses additional information and memorabilia that tells the story of the amazing Cape Cod rescue.