Exploring Dennis Port
Posted by Mark Washburn on Wednesday, May 27, 2015 at 6:36 AM
By Mark Washburn / May 27, 2015
Comment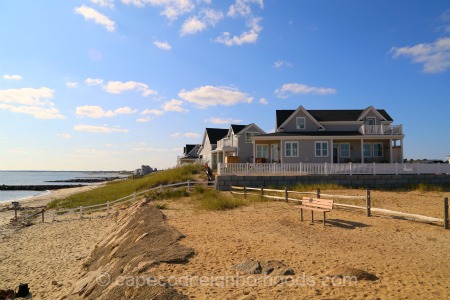 From community parks to upscale dining, the incredible community of Dennis Port comes alive with a variety of options to entertain residents and guests of all ages. That's why we set out to explore three of the most unique locations.

Sea View Park

Our first stop is Sea View Park, complete with walking paths, a playground, community gardens and more. This fantastic location also offers benches and picnic tables, providing the ideal location to relax and enjoy magical views of Nantucket Sound.

The peaceful, natural surroundings are complete with mature trees and markers highlighting the rich history of the region. The park also provides a great location to park and enjoy a short stroll over to nearby Sea View Beach.

The Oyster Company

Our next stop in exploring Dennis Port takes us to experience the unique cuisine of The Oyster Company. This raw-bar and grille offers Quivet Neck Oysters, served fresh and farmed right from Cape Cod Bay.

The Oyster Company also serves an extensive menu of seafood selections as well as a large selection of martinis to compliment your meal. Despite the appearance of an upscale menu, this remains a family-friendly dining location. Both walk-ins and reservations are accepted. You'll find The Oyster Company located right along Depot Street. The restaurant is open every day of the week for dinner, plus doors open on weekends starting at noon.

The Sea View

Finally, do not miss the opportunity to visit one of the Cape's most celebrated and elegant locations. The Sea View is a fairly new building, but constructed with Cape Cod design principles in mind. This one-of-a-kind location first captures your attention with its two-story foyer, featuring a lovely chandelier and staircase, the perfect setting for unforgettable photographs.

The Sea View also includes a lounge with a large mahogany bar, as well as a main dining area with room for up to 220 guests. This ideal wedding location also features an upstairs dining area, offering unmatched sunset views, perfect for smaller gatherings and functions. If you want to move your party outside, the location has that option too, overlooking natural views, including a nearby pond.

This family-owned location offers flexible menus for breakfasts, luncheons and dinners. You will find The Sea View located right on Chase Avenue. Call ahead to see how The Sea View can help make your next celebration unforgettable, from beginning to end.

From fine dining to picnics in the park, you are sure to enjoy exploring the fabulous community of Dennis Port, and all that it has to offer.