Exploring Cape Cod's Kettle Ponds
Posted by Mark Washburn on Monday, March 16, 2015 at 3:48 PM
By Mark Washburn / March 16, 2015
Comment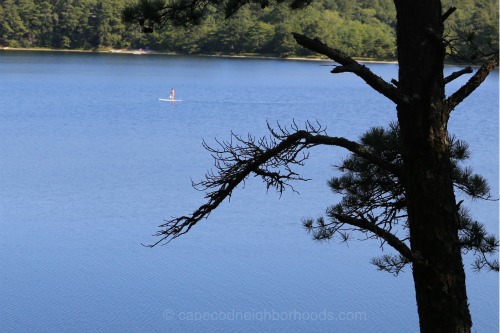 When you think of Cape Cod, you probably have visions of the ocean and its shoreline. However, the Cape also boasts a cache of freshwater alternatives. These are called kettle ponds, in fact Wellfleet and Truro have about 20 of them just waiting to be explored. Many of them now operate as area swimming beaches, but some of them are so remote they offer visitors a tranquil place to escape the crowds and return to nature.
The history of kettle ponds is quite remarkable. They were formed when glacier ice melted, resulting in huge holes that then filled up with fresh water. This happened more than 15,000 years ago, and the "kettles" are still there. Unlike the ocean, most of the kettle ponds don't have a beach and you have to trudge through the forest to find them. Since parking is limited, you'll likely have to walk or bike to get there.

One of the most popular kettle ponds with families is called Long Pond in Wellfleet. As far as kettle ponds go, it's actually fairly easy to get to this pond, off Route 6, and it does have some parking to speak of. It also includes a small beach and a shade-covered picnic area.
Other ponds popular with families include Gull Pond and Ryder Pond, where the frogs might just outnumber the visitors.

As for some of the out of reach ponds, Dyer Pond is near the top of the list. There's no legal place to park anywhere near it, and it's very much in the midst of the woods. One way to get there is by paddling in by boat. You can also snag a parking spot at Great Pond, if you're lucky, and take about a 15-minute walk along the dirt trails. You might catch me late in the day getting some exercise in swimming across Duck Pond, one of the best hidden Wellfleet ponds.

If you do want to visit any of the area ponds, you can find out more about them from the Wellfleet Information Center. This is in South Wellfleet, off Route 6. Other than having a local lead you in, though, you'll need to make sure you have a very detailed local map so that you don't get lost. There are also some guided kayak tours that will take you to the ponds.

Also remember, if you do plan on parking at any of the ponds that do happen to have a parking lot, you'll need a sticker from late June through Labor Day. You'll also need a freshwater fishing permit if you plan to fish while you're there.
Explore Cape Cod Pond Neighborhoods