Exploring Brewster Village
Posted by Mark Washburn on Friday, May 1, 2015 at 4:51 PM
By Mark Washburn / May 1, 2015
Comment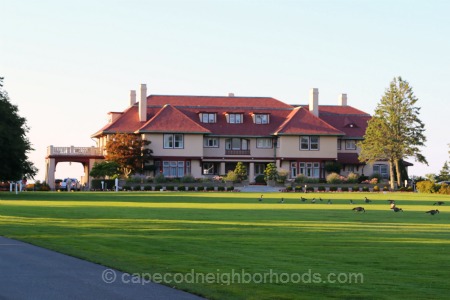 There's plenty to see and do in Brewster, but there are some top spots you just don't want to miss. That's why we went in search of some of the best places to stay, catch a bite to eat, and visit while exploring Brewster Village.

Ocean Edge Resort
The first spot on our list is the Ocean Edge Resort and Golf Club. This fantastic resort includes a mansion dating back to 1890, and overlooking Cape Cod Bay. Visitors to the resort have the option of either staying in the historic mansion or staying in The Villages, with fantastic views of the 18-hole, championship golf course. There are also eleven tennis courts, a private beach for Mansion guests, several pools and numerous restaurants on site.

Sea Meadow Inn
Next on our list, how about staying in a former sea captain's home dating back to 1780! You can, when you visit the Sea Meadow Inn. Formerly known as the Isaiah Clark House, the Inn is right along Historic 6A. With its peaceful setting, the Sea Meadow Inn provides a unique retreat for those lucky enough to stay in this magnificent place.

Captain Freeman Inn
Our next location is not only elegant, but historic too. The Captain Freeman Inn dates back to 1866, the former home of the actual Captain William Freeman. With rocking chairs lining the front porch of the home, the inn provides the ideal location to slow down and enjoy your surroundings in a remodeled home still rich with its original beauty and appeal.

Chillingsworth Restaurant
When you're ready to grab a bite to eat, why not head over for some fine dining at Chillingsworth. This upscale restaurant is part of the Chillingsworth Foster Estate in Brewster. For more than 30 years, the restaurant has served both locals and visitors. The 300 year old home includes just a handful of guestrooms located upstairs from the restaurant.

Brewster Store
Finally, our list would not be complete without a mention of Brewster Store. This charming 19th century general store sits inside a former church. It's been a general store since 1866, though, with everything for sale from penny candy and the morning paper, to groceries and glass bottle Coke. You can also find some unique gifts for sale here, too.

Whether you're in search of a great meal, a place to lounge, or a place to explore, there's no better place to do it than Brewster Village.