Edward Hopper Cherished the Outer Cape
Posted by Mark Washburn on Wednesday, December 20, 2017 at 5:18 PM
By Mark Washburn / December 20, 2017
Comment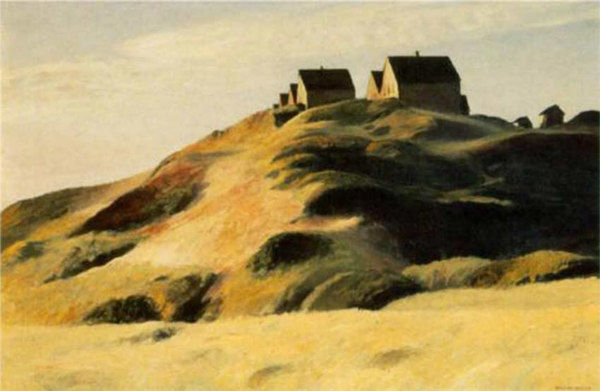 One of the most inspirational locations of renowned artist Edward Hopper's career, the prominent painter cherished the Outer Cape. The deep appreciation can be traced to the early 1930s when Hopper and his wife Josephine first rented a cottage in South Truro, a decision that led to the Hoppers returning to the area each summer from then on out.

The two artists commonly took day trips to other nearby areas, providing the inspiration Edward Hopper needed for his next piece of artwork. Mostly landscapes at this point in his life, his work turned to the sea and grass, lighthouses, farmhouses and sailboats.

One of his most famous depictions is 'Corn Hill', a 1930-era oil painting. There's also 'Highland Light, North Truro', which shows a lighthouse that has since been moved back from the edge of a crumbling cliff. Due to efforts by the National Park Service, the vista depicted in Hopper's painting from 1930 still resembles the scene of generations ago.

People can visit Highland Light to this day too, found next door to the Highland House Museum in North Truro. While the Hopper House is not open to the public, those further interested in Hopper's work can also visit the open landscape of Cape Cod National Seashore.

While some of the scenes found in Edward Hopper's paintings, such as Corn Hill, are still relatively easy to find, sadly others no longer exist. Many of the more hidden locations, however, can sometimes be found simply by talking to locals.

In recent years, family members have also donated nearly 100 of Edward Hopper's drawings to the Provincetown Art Association and Museum. As well, the family also donated dozens of drawings and watercolors made by Josephine, on top of nearly two-dozen of her private diaries.

That large donation led to the museum's current exhibit of the couple's work, on display through mid-October. In all, Edward Hopper painted upwards of 100 watercolors and oil paintings of the Cape, one of which sold a few years ago at auction for more than $9.5 million.