Discover the Scargo Tower in Dennis
Posted by Mark Washburn on Thursday, September 10, 2015 at 11:55 AM
By Mark Washburn / September 10, 2015
Comment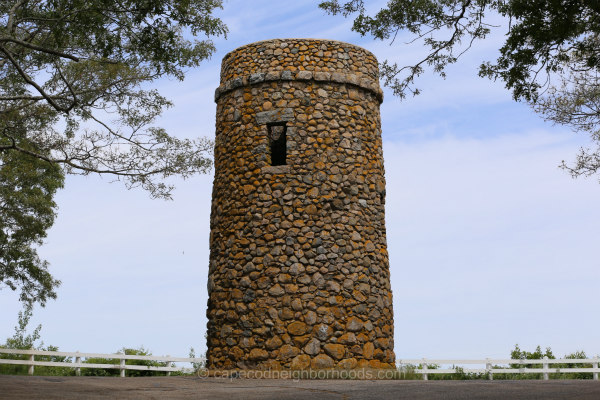 Standing strong for more than a century, the Scargo Tower is a unique treasure just waiting to be explored. The cobblestone tower sits on top of one of Cape Cod's tallest and most famous hills, Scargo Hill. Overlooking Scargo Lake and offering sweeping views of the bay side of Cape Cod, it's possible to see both the Sagamore Bridge and even Provincetown from the site. While presenting an interesting location for peaceful reflection these days, the tower also offers unique insight into the region's history.

The third tower to be built at the site, Scargo Tower is 30-feet tall and was built in 1901 to memorialize two brothers with ancestors who first settled the region in the late 1600s. The first tower built at the location was made of wood and a powerful storm took it out in the late 1800s. The second tower constructed at the site was also made of wood and burned. However, the third tower continues to draw visitors from both near and afar.

While you won't find the typical gift shop geared towards tourists at this location, you will be rewarded with a fantastic view. Visitors must walk up Scargo Hill to reach the tower, and then climb up a spiral staircase to reach the top for the best views. Although the tower isn't very large, only about eight people can fit on the top at one time, it is magnificent. Another great draw is that a visit to the tower is free. It also only takes as long to visit as you want. You can make it a short visit, or a longer one, depending on your interest in the scenic views.

If you're planning to go to Scargo Tower be sure to bring your camera. You'll be glad you did once you discover the incredible views from the top. The location is especially fantastic around sunset. It offers views of Mayflower Beach, and on to Sandwich. You can also pack a picnic lunch for one of the best lunch views in all of Cape Cod.

If you're planning to visit, make sure you grab a map or ask a local for directions. Unfortunately, GPS sometimes has a difficult time finding the tower. Most simply, though, it is on the south side of Scargo Lake within the Town of Dennis. You'll find it along Scargo Hill Road, just off Route 6A. The tower is open for visitors from sunrise through sunset.