Discover the Chatham Labyrinth
Posted by Mark Washburn on Monday, December 4, 2017 at 3:24 PM
By Mark Washburn / December 4, 2017
Comment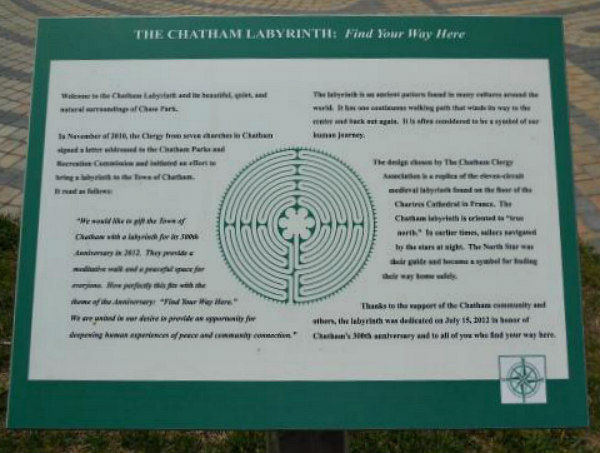 Serving primarily as a quiet place to reflect and clear your thoughts, the Chatham Labyrinth also, for some, serves as a carefully designed spiritual place. No matter your reason for visiting, though, the labyrinth is sure to provide an interesting backdrop.

Gifted by local churches as part of a 300th anniversary celebration a few years back, the town labyrinth is a replica of one found in a French cathedral, designed from cut and sealed pavers. Completely in proportion, the design is said to help with the creation of harmony.

With a total of 11 circuits, the path of the labyrinth winds 11 times around until you reach its center. Laid out straight, the path would measure about one-third of a mile and 16-inches wide.

It's hoped those who embark on the short journey use it for prayer and meditation. In relation, it's also said that people long ago used similar labyrinths as part of their own symbolic pilgrimage toward the Holy Land.

Symbolically too, the entrance of the Chatham Labyrinth is considered true north, a symbol itself of hope dating back to the time sailors once navigated by the North Star. The continuous path eventually leads to the center of the labyrinth, containing a rosette of six petals. It's made to symbolize love and beauty.

Found in Chase Park at Pilgrim's Landing, the Chatham Labyrinth is located in the heart of the seaside community, close to the old mill. Visitors are welcome to come to the labyrinth at any time during park hours. During the summer season, volunteers help lead guided labyrinth walks, while there are also some planned retreats and educational workshops at the site.

Surrounding the labyrinth is a year-round Healing Garden. Meanwhile, the nearby windmill is open during the summer season for tours during select days and hours, and is in operation twice a year.