Discover the Cape Cod Museum of Natural History
Posted by Mark Washburn on Saturday, January 24, 2015 at 8:49 AM
By Mark Washburn / January 24, 2015
Comment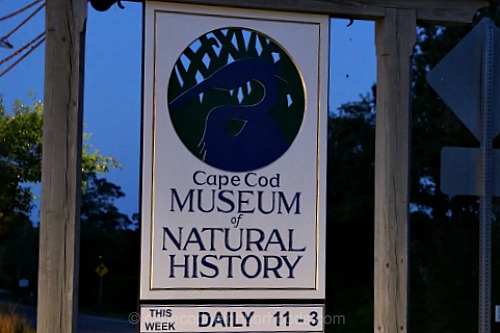 There's nothing like getting up close and personal with nature on Cape Cod. From sailing, to hiking, to biking and more, there's a lot to do and see. One place to inspire your thirst for knowledge is the Cape Cod Museum of Natural History in Brewster.
The museum itself is small, but filled with permanent artifacts reflecting the history of the Cape. It also houses traveling exhibits and those on loan from other museums. One of the most popular ones, especially for kids, is the honeybee hive. In fact, the museum has three hives on its property, and even hosts a Honey Bee Jamboree each fall when locally made honey is up for sale.
There's also a Marshview Room, offering visitors the opportunity to get a taste of just how many animals and plants are at home in the varied ecosystems of the Cape. Once you see the inside exhibit, be sure to go outside and see if you can spot some of the wildlife yourself. There's even an OspreyCam pointed at a nearby osprey nest where you might witness new chicks hatching.
In fact, the museum provides 80 acres of property to explore. This includes, forest, ponds and marshland, filled with all kinds of wildlife and birds. During the warmer months of the year, you can take part in a guided field walk or nature program. Another way to get out into nature is with the museum's Mudflat Mania program. This offers visitors a chance to do some beachside exploration.
The museum's aquarium offers a look at marine life commonly found in the region. If you're lucky you may see things like pumpkin lobster, moon jellies or even eels up close. Keep in mind, though, the species on exhibit change often, so when you go back for another visit you may find a completely new world to explore.
If you want to get up close and personal with a whale, you can do that too. These huge whales aren't real, but the models are big enough to walk right inside and explore. The whales visit at times throughout the year, so check the museum's calendar.
It's probably a good idea to check the dates and times no matter when you plan to visit. The museum has different operating hours throughout the year. No matter when you go, come prepared to learn a great deal, plus have a lot of fun, too.