Discover Nature at the Punkhorn Parklands
Posted by Mark Washburn on Monday, March 30, 2015 at 6:19 PM
By Mark Washburn / March 30, 2015
Comment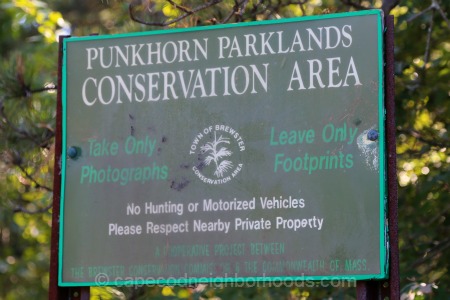 There's nothing like getting back to nature, and no better place to do it than the Punkhorn Parklands. This magical location includes never-ending trails, winding through the untapped wilderness of Brewster.

There's no development in this portion of the Cape because the Parklands is part of a large conservation area. The location was purchased by the Town of Brewster to ensure it stays that way for generations to come.

The area includes miles of trails, some of them marked and some of them unmarked, allowing visitors to make their own way through the dense trees and underbrush. Whether you take a short walk or a long one, you're sure to be rewarded by this calming and peaceful environment.

With a landscape as varied as the number of trails to choose from, expect to stumble upon some of the most enjoyable locations to lose yourself along the Cape. Some of these trails will lead you to the kettle ponds located within the Punkhorn Parklands. Walkers Pond is one of them. This quiet and undeveloped pond offers a remote location, surrounded by stunning and simplistic natural scenery. It's the perfect place to take a cool dip in the water and relax an afternoon away.

The other kettle pond located within the Parklands is called Upper Millpond. While not quiet as remote in feel as Walkers Pond, it still offers a beautiful location for visitors and area residents to enjoy. If you don't want to hike to either site, you can reach both locations by car. You'll find a landing off Slough Road in Brewster to park your car and visit Walker Pond. You can reach Upper Millpond via Run Hill Road. While it's easier to get to both locations this way, it may not be as much fun as discovering nature via one of the many trails. You can also access some of the trails on a mountain bike or even by horseback.

Use the opportunity to take in all that nature offers in this extraordinary location. You're likely spot native trees like the red maple, black cherry, pitch pine and black oak along the way, as well as wildlife and birds, including cardinals, robins, osprey and woodpeckers.

You'll find the Punkhorn Parklands off 6A in Brewster. Take the Stony Brook Road exit to Run Hill Road. After about a mile you'll see a small parking lot where you can park your car before visiting the Parklands.