Discover Eastham's Nauset Marsh Trail
Posted by Mark Washburn on Wednesday, September 16, 2015 at 1:43 PM
By Mark Washburn / September 16, 2015
Comment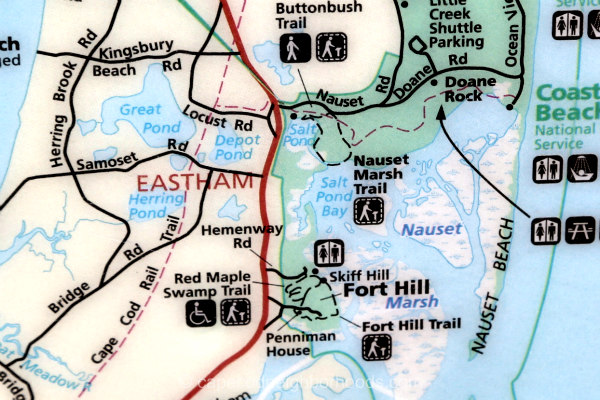 If you really want to experience Cape Cod's natural scenery in all of its glory, it's time to hit the open trail. Eastham's Nauset Marsh Trail is full of adventure and even more fantastic views, especially of the beach and the picturesque Atlantic Ocean. It begins, conveniently, just past the Salt Pond Visitor Center at the Cape Cod National Seashore. Whether you want to go with a group or head out on your own, it's a fantastic location to get started.

The trail takes visitors along Salt Pond's eastern shore. At high tide the area sometimes floods but it's not a problem due to the raised boardwalk. This is a great location for spotting swans. You're also sure to spot kayaks as you head toward the inlet feeding Nauset Marsh. One of the most picturesque views of all comes as you cross over a creek, with views of a house and barn across the inlet.

The trail also takes climbers into the woods, offering sweeping views of the Atlantic and the Nauset Marsh. Nearby benches give the opportunity to catch your breath with a wildflower meadow framing your stop. If you run out of energy you can always jump on the bike path back to the Visitor Center early. If not, you can head to the Nauset Marsh Trail loop or towards Doane Rock. Along the trail you'll also be treated to views of the old Coast Guard Station, sprawling beach and occasionally a high surf, packed with brave surfers and harbor seals.

For guided walks be sure and check in at the Visitor Center. If you're planning to walk on your own, it's an easy trail that's simple to follow. You'll also want to head first to the Visitor Center, though, to grab a map. This will help you out with landmarks as you go, or help you along if you want to walk past the full 1.3+ miles that the trail stretches.

When you go, be sure to bring some water and some bug spray to fend off the pesky insects. Unfortunately, mosquitos, ticks and gnats are all at home along the trail, and so are biting flies, especially around the marsh area in late summer.

As for parking, you'll find it at the Salt Pond Visitor Center. It's a popular location during the summer season, with both the trail and Visitor Center easily located just off of Route 6 in Eastham.