Cobies Clam Shack- A Brewster Tradition
Posted by Mark Washburn on Monday, August 26, 2019 at 8:29 AM
By Mark Washburn / August 26, 2019
Comment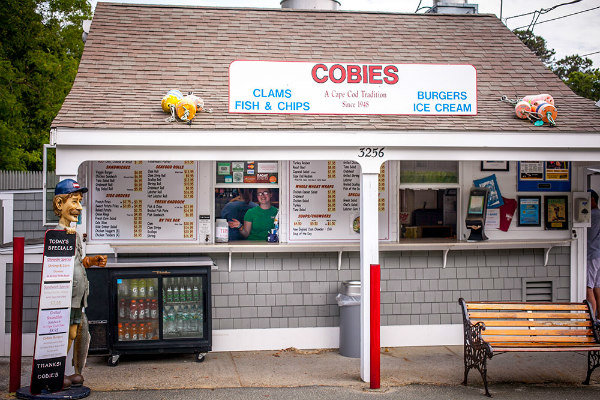 If you're looking for a great place to sample some of Cape Cod's best seafood, you cannot go wrong with a Brewster tradition. Cobies is one of a number of clam shacks in the region, but according to some, it's one of the best.
It's so good that New England Today recently put it on its list of the "10 Best Clam Shacks in New England". Located right along Route 6A in Brewster, the whitewashed clam shack is praised for its fried clams and its cold lobster roll. The website also makes note of its ice cream selection, with dozens of flavors available to tempt your taste buds.
It's not the only time Cobies has been at the top of the list. The CapeCod.com website also listed the clam shack among its favorites when it comes to the "Top 19 Restaurants" for fried seafood on the Cape.
Noted as a local landmark of sorts, Cobies serves up favorites including clam plates and clam chowder. You'll also find a clam roll on the menu, along with sandwiches, burgers and other seafood selections.
Of course, for those who know Cape Cod, Cobies is hardly a secret. The clam shack's been around since the late 1940s, meaning generations have enjoyed this Cape tradition. It's common to see people lined up outside the shack to place their orders.
What it lacks in overall appearance, it certainly makes up for in terms of taste. Dining at Cobies is a strictly a casual affair. You order from a board at the window, then grab a spot at one of the picnic tables outside.
The Brewster location makes it easy to stop by for a bite to eat. Locals, tourists and cyclists can't miss it, right off the Cape Cod Rail Trail and 6A.