Check Out the Orleans Artists Cottages
Posted by Mark Washburn on Saturday, August 15, 2015 at 7:12 PM
By Mark Washburn / August 15, 2015
Comment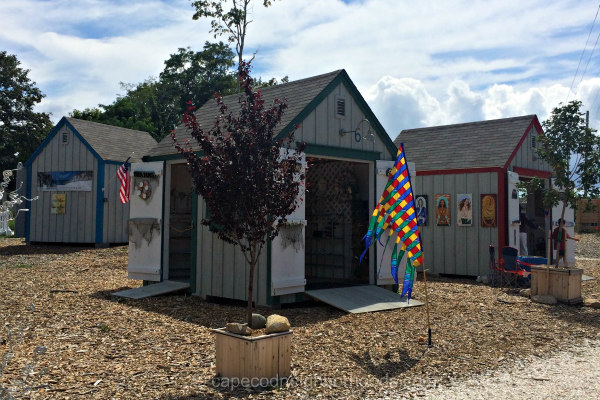 If you're looking for something unique to do in Orleans this summer, be sure and check out the artist cottages. In all this year there are eight cottages, all part of the Village Center Cultural District, as they celebrate the designs and originality of dozens of local artists.

The idea behind the cottages is to provide a fun and affordable place for visitors and local residents to shop, as well as for Cape Cod area artists to sell their artwork. All of the artwork for sale is handmade and original, and has to be approved before being sold on the grounds.

Artists can lease the space either by week or by month, meaning each time you go you may find completely new and unique artwork for sale to add to your own personal collection, or pick up as a souvenir for friends and family back home. Because the artists vary by week, so do the choices in artwork. Commonly you will find everything from paintings and ceramics to sculptures, jewelry, photography and even glasswork for sale.

While last year there were only three cottages, due to the popularity of the site five additional artist cottages were added for the summer 2015 season. In addition, this year there is a longer shopping and selling period. The Orleans Artist Cottages are open each Wednesday through Sunday from 11am-7pm during the month of August. On Saturdays the cottages open even earlier, at 9 am to coincide with shoppers taking in the nearby farmer's market. The artist cottages are closed to shoppers on Mondays and Tuesdays.

New for 2015, the cottages will also be open to shoppers on Labor Day weekend. The hours are 9a-5pm on Saturday, September 5 and 11am-5pm on the Sunday and Monday of the holiday weekend. This gives visitors and locals ample opportunity to visit the cottages and take advantage of some of the incredible artwork up for sale this season.

You'll find the artist cottages located on Old Colony Way in Orleans, tucked away between the Hot Chocolate Sparrow and the Orleans Farmer's Market. This beautiful location recently got a facelift to help market the area's rich history of art, as well as bring in additional visitors to the general area. Upgrades included adding a landscaped pocket park to Market Square. In addition, the parks and a garden were enhanced with original sculptures, benches, murals and gates to mark this season.