Chatham's Three Lighthouses
Posted by Mark Washburn on Friday, February 20, 2015 at 9:22 AM
By Mark Washburn / February 20, 2015
Comment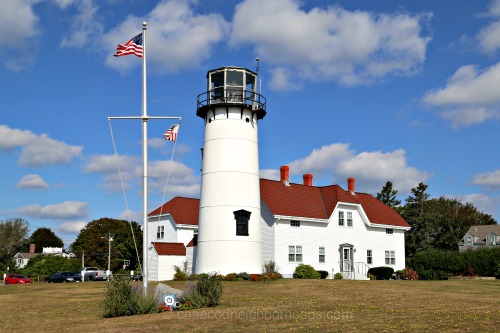 For hundreds of years, lighthouses have stood the test of time on Cape Cod, a beacon of hope for lost and stranded seamen as they made their journey back to shore. These days, the historic structures tell a tale of their own, a history rich with maritime adventure.

Some of the most prolific examples of Cape Cod lighthouses stand in Chatham, accented by the beauty of the area and the historical tales they tell. When in Chatham there are three famed lighthouses you will not want to miss.
Stage Harbor Lighthouse
Our journey begins with the Stage Harbor Lighthouse. Constructed around 1880, this remarkable lighthouse is actually the youngest lighthouse on the Cape. Also referred to as Harding's Beach Lighthouse, Stage Harbor was built to serve as an entrance to Stage Harbor in one of the foggiest areas of all of the East Coast.

Unfortunately for visitors and residents, the Stage Harbor Lighthouse is not open for tours. You can still get a great view of the lighthouse from the outside, though. If you plan to visit, the best place to see the lighthouse is by standing on Harding's Beach.
Chatham Lighthouse
Our next lighthouse is located at Chatham Harbor's southern entrance, off Route 28 and Main Street in Chatham. Originally, Chatham Lighthouse boasted two range lights to help guide the shipping and whaling boats. Built in the early 1800's, erosion led to the south tower collapsing in the late 1800's. Erosion also destroyed the north tower and the keeper's house not long afterwards. These days only a single light burns at Chatham Lighthouse.

Visitors have the opportunity to tour this lighthouse, led by the Coast Guard Auxiliary. You can visit the grounds all year long, but it gets busy during the warmer months so be sure to plan ahead if you want to go see it.
Monomoy Point Lighthouse
Our final lighthouse you don't want to miss is called Monomoy Point Lighthouse. Located on Monomoy Island South, this lighthouse is within Monomoy National Wildlife Refuge. Built around 1823, Monomoy Point was once fairly isolated, but had the important job of leading seamen through the area's strong currents.
In the 1960's, the lighthouse was restored. Visitors can now see it with limited access during the summer.

Whether you are able to visit just one of the famed lighthouses, or all three, these incredible structures are something you definitely do not want to miss the next time you find yourself in Chatham.