Chatham Shark Fest 2015
Posted by Mark Washburn on Monday, June 1, 2015 at 6:33 PM
By Mark Washburn / June 1, 2015
Comment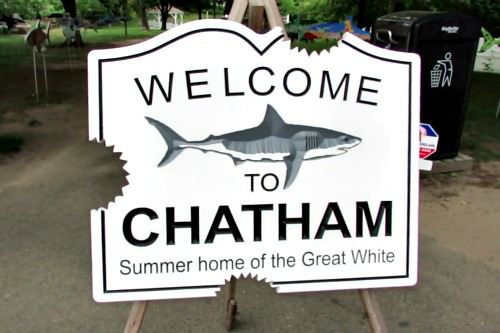 While sharks may be the last thing some of us hope to see when visiting Cape Cod, others are not only celebrating sharks, but also using them to help educate the public. Chatham Shark Fest is the opportunity for the Atlantic White Shark Conservancy to team with the Wellfleet Bay Mass Audubon and teach people about awareness and conservation efforts regarding the white shark.

This year's event, named FINomenal Fest, is planned for June 13 at Kate Gould Park in Chatham. If you go, expect to find an entire day full of free shark activities, including shark information, plus live music, face painting and even jewelry making with shark teeth. The festival runs from 11am-4pm. The day full of fun is the opportunity to learn more about not just white sharks but also about other marine animals making a home in the Cape Cod region.

As well as the free park activities, the nearby Orpheum Theatre is planning a film screening about great white sharks. This will be followed by a discussion led by the Cape Cod Commercial Fishermen's Alliance. The screening is also free, but space is limited. If you want to go, you'll probably want to arrive early to get a seat. The movie screening begins at 10:30 and the discussion begins at 11:30pm. After the discussion, stick around for some tasty Cape Shark tacos at noon.

In addition, participants can take a self-guided nature walk along the Morris Island Trail. Expect to see some shark fin signs pinpointing information about the sharks that swim in the area, plus more about the shark research currently happening off the coast. The nature hike goes from 11am-4pm.

As the day winds down, Chatham Bars Inn is hosting a benefit lecture by Dr. Greg Skomal, a shark researcher, as well as filmmaker Joe Romeiro. This will include learning more about new shark research and seeing some underwater shark photography. Tickets to this event are $25. All money raised goes toward shark research.

In addition, plans are underway to offer scholarships for kids to learn more about sharks this summer season. This includes providing scholarships for kids to attend Chatham's natural history day camp and the kids summer program put on by the Atlantic White Shark Conservancy.

While it's understandable some people fear the sharks in the water, the groups involved with this event hope to use the day to educate the public about them and show off what researchers are learning about great white sharks in the region.