Chatham Railroad Museum
Posted by Mark Washburn on Wednesday, May 6, 2015 at 2:42 PM
By Mark Washburn / May 6, 2015
Comment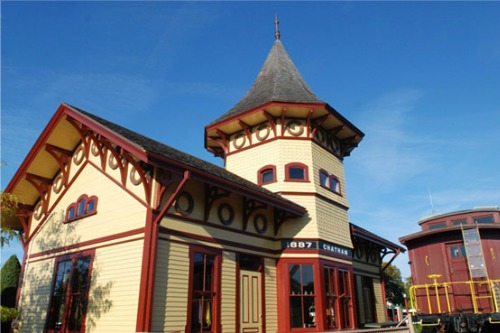 When you think of Cape Cod history, you probably think mostly of the region's pronounced and rich maritime history. However, the area boasts a unique history in another mode of transportation too. That's where the Chatham Railroad Museum comes into play.

This remarkable museum is located in the exact location where Chatham residents once gathered to catch a train in the late 1800's. To be exact, the railroad depot dates back to 1887. Although service to the depot ended sometime in the 1930's, it wasn't until 1960 that the museum was founded. This follows the donation of the, then vacant, building and the land it sits on to the Town of Chatham. In recent years, the station has been meticulously restored.

Once a working rail depot, the building now holds hundreds of exhibits related to the region's rail service. In also boasts locomotives used as part of the 1939 New York World's Fair. In addition, this amazing location also includes operating telegraph equipment from Western Union, as well as some original paintings and a large library collection.

The site even includes a 1910 wood-sided caboose that's a real draw for both adults and kids. This caboose traveled more than one million miles between New York City and Chicago in its day. It's been fully restored, and now includes audio to transport visitors back to the old days, complete with the sounds of a rolling train, a whistle and squealing brakes.

In 1978, the building housing the Chatham Railroad Museum became part of the National Register of Historic Places. Local and state grants led to exterior restoration in 2009. Currently, the Town of Chatham owns the building, but the Chatham Railroad Museum Group manages it. The group is made up of members with a background in the railroad industry. About 50 museum docents volunteer to help run the museum during the summer months.

This family-friendly location is open to the public Tuesday-Saturday, from mid-June through mid-September. If you go, make sure you head out early. The museum opens at ten in the morning, and closes at four. There's no set fee to enter the museum, but donations are accepted.

When you have a morning or afternoon to spare, why not head out to this unique museum. Not only will you learn a great deal about rail history, but also about the community of Chatham, and the workings of Cape Cod generations ago.