Chatham Light Shines Bright
Posted by Mark Washburn on Monday, June 18, 2018 at 7:48 PM
By Mark Washburn / June 18, 2018
Comment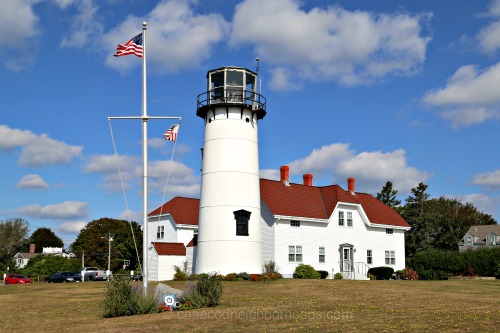 Volunteers are gearing up for another summer season highlighting the bright history of Chatham Light. The historic lighthouse often hosts tours during the summer season, offering up the opportunity to get a close-up view of this early 19th century landmark.

The Cape's second lighthouse, Chatham Light was first constructed in the early 1800s, easily distinguished by its two fixed white lights. Originally consisting of two wooden towers and a keeper house, the lighthouse was no match for Mother Nature, though.

Soon replaced by sturdier, brick towers, it wasn't the end of the story for Chatham Light. Fast forward a few more decades and erosion began seriously threatening the lighthouse, leading area leaders to make plans to construct two new cast-iron towers across the road.

It wasn't long before the previous towers and the keeper's house tumbled down to the beach. Eventually, the site changed its look once again. Crews moved the north light up to Eastham, becoming Nauset Light, while the remaining tower gained an electric light.

The longstanding history of the lighthouse is open to eventual change, though, as it's expected that future erosion could someday threaten the existing tower once again. For now, however, volunteers are happy to teach visitors about the historic location and its beginnings.

Found just across from Lighthouse Beach, tour guides lead visitors through the site on select days and times through mid-October. You'll also find a monument at the site in memory of the former crew of the Monomoy Life Saving Station.

It's easy to get there by car, though parking is sometimes an issue, especially during the busy tourist season. Once you go, if you still want to learn more about the location you can always view the site's old lens and lantern. Both are on display at the Atwood House Museum, just minutes from the old lighthouse.