Charles Zehnder Left a Modernist Legacy on Cape Cod
Posted by Mark Washburn on Wednesday, June 24, 2015 at 9:58 PM
By Mark Washburn / June 24, 2015
Comment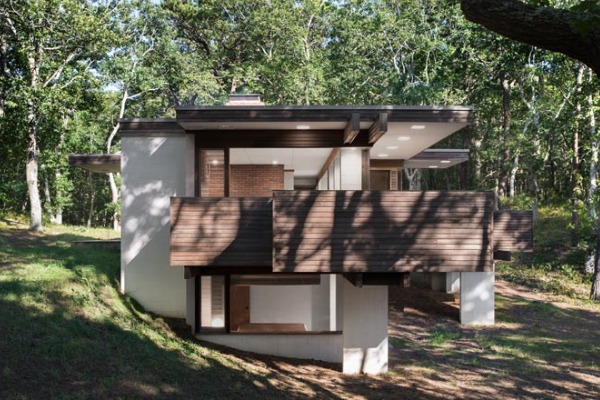 While Cape Cod is well regarded for its maritime history, the area also gains acclaim for some of its Modernist homes. The man behind much of the architecture is named Charles Zehnder and he definitely left a mark when it comes to his legacy along Cape Cod.

Zehnder is the name behind around four-dozen Modernist homes in Wellfleet and the surrounding area. His legacy, though, began well before the first home went up. Charles Zehnder studied architecture in college, but it was the opportunity to eat dinner with famed American architect Frank Lloyd Wright that perhaps most influenced his destiny. Zehnder won the opportunity to connect with Wright through a design contest.

Later, Zehnder helped a friend build a home in Truro and settled, himself, in Wellfleet. He opened up a design and building business from his own home. Eventually, he built the other homes, known for their minimalistic features and low cost. Most of Zehnder's clients were writers and artists, and his fame spread through word of mouth.

In total, Zehnder built more Modern homes along the Outer Cape than any other architect in the region. All of the homes celebrate geometric forms, as well as compliment the nearby surroundings. The Outer Cape Modernist style puts an extra emphasis on natural materials and natural woods. The homes are airy and open, void of much ornamentation.

The very first Modernist structure in the entire US to gain National Park Service protection is one of Zehnder's creations. Located on Northeast Pond, the Kugel-Gips residence is now under the care of the Cape Cod Modern House Trust of Wellfleet. About $150,000 was raised to restore the 2,000 square-foot home.

Constructed of glass, wood and concrete, the home is located at the top of a hill, with a pathway leading to the nearby pond. Influenced by the designs of Frank Lloyd Wright, the home emphasizes horizontal planes, long decks and a covered space, jutting the living area out into the natural environment.

Built to inspire and become one with nature, efforts are now underway to save the additional Modernist homes built decades ago along the outer Cape from ruins. While the plan was to transform the Kugel house into the Cape Cod Modern House Trust headquarters, the idea for other homes is to restore them for artists, visitors, writers and scholars to use for generations to come.