Celebrating Edward Hopper on Cape Cod
Posted by Mark Washburn on Thursday, August 27, 2015 at 6:39 PM
By Mark Washburn / August 27, 2015
Comment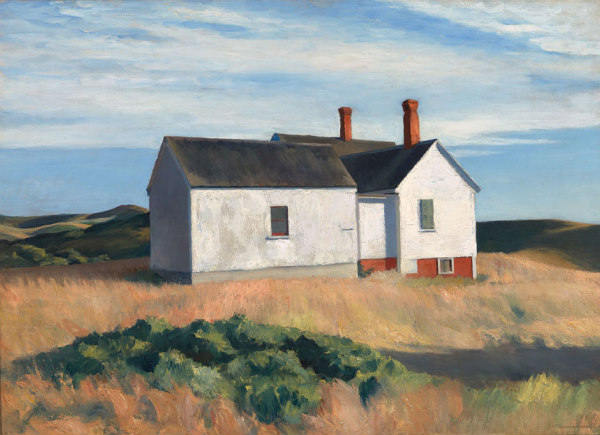 Locals and visitors will have multiple opportunities to celebrate revered New England artist Edward Hopper over the coming months. Hopper first came to the Cape with his wife in 1930 and spent many summers inspired by the views of Fisher Beach. In fact, it was his wife who pushed Hopper to first paint in watercolor. Throughout his career, Hopper went on to create more than 100 watercolors and oil interpretations of Cape Cod's magnificent scenery.

Some of his most famous works include "Corn Hill", "Gas", "Cape Cod Sunset" and "Seven A.M.". However, it was a 1946 painting named "October on Cape Cod" that recently sold at auction for an outstanding $9.6 million. Hopper's paintings rarely included people, but rather some of the unique architecture found on the Cape, bathed in sunlight. Because the sea was right next to their home in South Truro, it was Hopper's favorite place to paint.

These days there are still plenty of ways to celebrate the artwork and the artist, himself. Researcher Lisbeth Chapman is an expert on the vistas and homes that Hopper painted in the Truro and Wellfleet areas during the early 1930s, and commonly lectures on the topic. The tours are held every day of the week at 10am and 2pm, taking visitors along on a two-hour car ride of various locations along the Cape.

Visiting out of the way places and driving back roads, tourists have the opportunity to see the very same homes and vistas that Hopper painted decades ago. Chapman also includes information about a rental cottage Hopper once stayed in as well as provides family anecdotes to learn more about the artist, himself. These tours start and end at Wellfleet Town Pier. Expect to see the locations that inspired four Wellfleet paintings as well as another two-dozen sites in South Truro.

In addition, the owner of an Orleans art gallery is also paying tribute to Hopper's work with an exhibition of paintings called "After Hopper". This exhibition brings to light the work of dozens of artists, demonstrators and lectors who've all been inspired by Hopper's plein air paintings. You can attend the exhibition on display at the Cape Cod Museum of Art from August 29-November 15.

Additionally, a lecture is planned for September 3 and demonstrations are planned for September 19, also at the museum. The Cape Cod Museum of Art is found on Hope Lane in Dennis. It is open every day of the week but Mondays.