Cape Cod Lifesaving Stations Live On
Posted by Mark Washburn on Thursday, January 1, 2015 at 8:20 AM
By Mark Washburn / January 1, 2015
Comment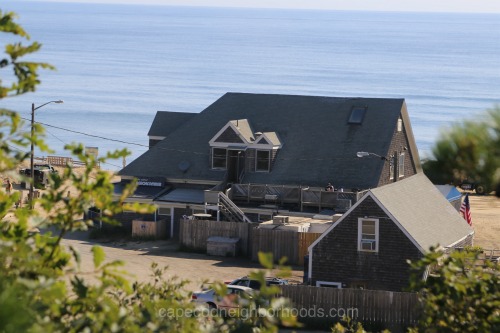 Cape Cod is known for its rich history, and some of that history takes on a new, unique role for area residents and tourists. That's the case of some of the Cape's former lifesaving stations that found new life thanks to the ingenuity of local businesses. With the opening of the Cape Cod Canal in 1916, much of the maritime traffic bypassed the dangerous waters around the Cape and rendered the lifesaving stations obsolete.

The best known and visited former Cape Cod lifesaving station is the Beachcomber in Wellfleet . Dating back to the 1800's, this site used to be home to the Cahoon Hollow U.S. Life Saving Station. The building offered an observatory used to watch for passing ships and keep track of shipping traffic. The lifesaving stationed at Cahoon Hollow also kept eight miles of shoreline safe.

In the 1950's, the Cahoon Hollow Station was converted into a small inn called the Beachcomber. It was later sold in the 1970's to its current owners and now offers a seafood restaurant and club. The Beachcomber is known for its seasonal line-up of live musical acts that have entertained the Outer Cape for nearly 40 years. The Beachcomber restaurant offers a tasty menu of native Cape Cod seafood including Wellfleet Oysters, fried clams, lobster and more.

Hostelling International-Truro claims the distinction of once being a Coast Guard station. A lifesaving station, which is no longer standing, was also formerly located here at Ballston Beach. These days, though, the site offers visitors the opportunity to experience the farthest out hostel on the "wrist" of Cape Cod. This hostel is actually located within the Cape Cod National Seashore on a dune at Ballston Beach in Truro. With large windows, visitors can not only see the ocean, but also be on the beach in just about five minutes.

Visitors to the hostel also have access to the National Seashore's nature trails, bike paths and fresh water ponds. If you plan to visit, though, keep a few things in mind. No taxis operate in the area and the hostel is around two miles from the nearest bus stop. You'll want to make the walk during the daylight too, because there aren't any sidewalks. You'll also need to know that you can only stay seven days per season at HI-Truro.
If you're looking for some fantastic views, whether for dining or for lodging, why not give the Beachcomber and HI-Truro a try. You surely won't be disappointed in your surroundings.