Cape Cod Dog-friendly Beaches
Posted by Mark Washburn on Tuesday, January 6, 2015 at 3:31 PM
By Mark Washburn / January 6, 2015
Comment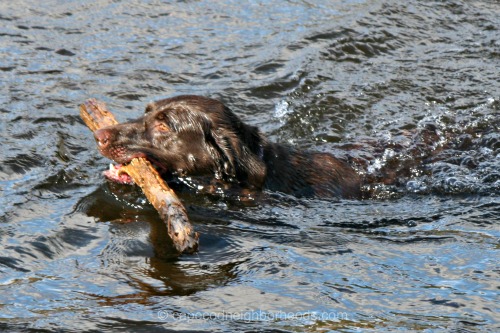 When you head out for a day at the beach you'll want to grab everything you might need for some fun in the sand and surf. And, that includes our four-legged friends who love to run on the beach and romp in the surf. In most towns, including the public beaches in Harwich, Brewster, Chatham, and Dennis, dogs are not allowed on the town beaches during the summer months although the rules are relaxed in the off-season. The following is a quick list of dog-friendly year-round beaches on the Cape.

Wellfleet's Cahoon Hollow Beach is a popular spot for both vacation-loving dogs and their owners. Humans can enjoy the close proximity to the iconic Beachcomber Restaurant while their dogs enjoy dipping their paws in the surf along the expanse of powdery sand. May 15 - October 15th dogs need to stay on a leash as well as stay out of lifeguarded areas from 9 am to 5 pm. It's understood you may need to walk a dog on a leash through a protected area to to get to a dog-friendly stretch of the beach.

Coast Guard Beach and Nauset Light Beach in Eastham are also favorite destinations for dogs who need to stay on a leash up to six feet as well as avoid lifeguarded areas during the summer season. For those pooches that like cold water, Nauset LIght Beach offers the true Atlantic beach experience. Dogs and their humans can also enjoy the stars strolling along the beach after-hours.

Head of the Meadow Beach at North Truro offers a similar policy -- dogs are able to venture down the beach on a leash but need to stay away from lifeguarded areas as well as areas where there are nesting shore birds, such as the Piping Plovers. While you're walking your dog at low tide, look for the wreck of the "Frances" -- a famous ship that sunk in 1872 in a winter storm, that is still visible at low tide.

In Orleans, your pet will love to explore the rolling sand dunes of Nauset Beach as well as take in the sunsets at nearby Skaket Beach. Again, dogs need to be leashed and stay out of protected areas. Pets are welcome off-leash during the off-season.

With all of the dog-friendly beaches on the Cape, you're sure to find a destination that suits you and your pet. Your best best is always to check on an individual beach before you go, no matter what part of the Cape you plan to visit.