Cape Cod Central Railroad
Posted by Mark Washburn on Monday, January 15, 2018 at 1:55 PM
By Mark Washburn / January 15, 2018
Comment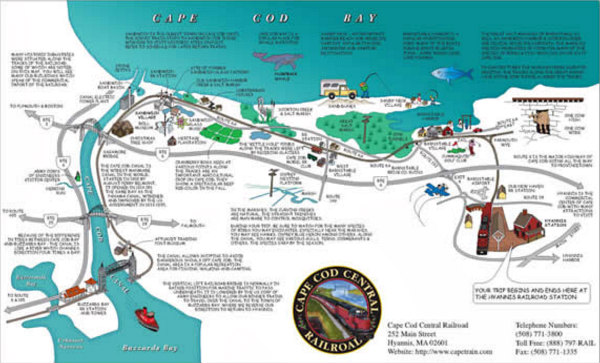 Celebrating more than 150 years of history on Cape Cod, the Cape Cod Central Railroad continues with a tradition that's generations in the making. These days the railroad serves up more of a scenic role, moving through the landscape in an unforgettable way.

The railroad, however, has been a part of the region for well more than century. It actually dates back to the mid 1800s when rail serve first came to Cape Cod. That service then extended to connect several area towns and communities, extending to locations such as Orleans, Wellfleet and Provincetown. At one time even President Ulysses S. Grant is said to have boarded the train.

In more recent years, however, the railroad has turned into more of a tourist attraction, now running excursion trains from Hyannis to the Cape Cod Canal. In operation during certain times of the year, you'll find now find brunch and lunch trains, a dinner train and a scenic excursion train. There also some seasonal offerings.

The relaxing rail service takes riders along as narrators commonly tell the story and history of the region. The dinner train, in particular, is a three-hour journey, set to candlelight and romantic music. It also includes a gourmet meal, topped off with cocktails and coffee.

Meanwhile the brunch train operates on select Sunday mornings from July through mid-October, with a two-hour long trip. The lunch train also runs on select days for a two-hour journey. This family-friendly train ride includes service of a three-course meal.

Another popular option is the scenic, narrated train. This two-hour ride takes travelers close to sand dunes, salt marshes, bogs and woodlands, with late morning and some afternoon departures available.

Whether you aspire to learn more about the landscape of Cape Cod, the history or simply enjoy a fantastic meal, you will find it all available aboard the Cape Cod Central Railroad.