Cambridge Ranked Top Family Friendly City
Posted by Mark Washburn on Friday, September 23, 2022 at 10:27 AM
By Mark Washburn / September 23, 2022
Comment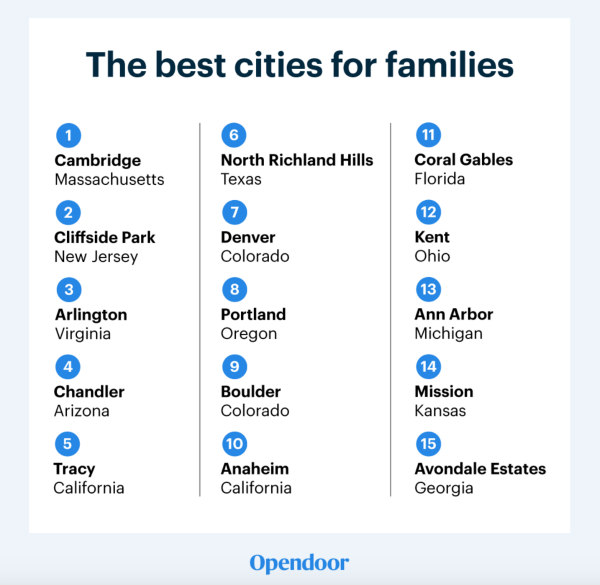 Homebuyers often seek out certain amenities, and that's certainly true for those with families. If you're looking for one of the most family-friendly cities in the nation, you may want to take a closer look at Cambridge.
It was just named the number one city in the nation in terms of "Opendoor's Top Family-friendly Cities". The online real estate platform recently came up with the list based on a number of different criteria, ranging from local schools and playgrounds to area swimming pools, picnic sites, museums, community centers and supermarkets.
When all was said and done, Cambridge came out at the very top of the list, followed by Cliffside Park in New Jersey and Arlington, Virginia. Cambridge was the only Massachusetts city to make a showing on the list of the top 15 family-friendly cities in the nation.
Part of the Boston metro area, Cambridge sits just across the Charles River from the large city. Its home to some prestigious colleges and universities, including Harvard and the Massachusetts Institute of Technology.
Built up originally as a streetcar suburb, Cambridge today is home to many startups too, specifically those located in Kendall Square. Harvard Square is a major shopping area in Cambridge, while Inman Square offers several boutique shops, restaurants, and music venues.
Many area museums are connected to Harvard and MIT, and permanent public art can be found on both campuses, as well. In addition, open space can be found on the university campuses, including MIT's Great Lawn and Harvard Yard.
The ranking from Opendoor is supported by other websites as well, including Niche.com. The website gives Cambridge an overall grade of an "A+", including an "A+" in terms of being good for families and an "A" for its public schools. The Niche website specifically credits the city's highly rated public schools, its restaurants and coffee shops, and its urban feel.