Cahoon Hollow Dune Swallows Car
Posted by Mark Washburn on Friday, October 6, 2017 at 10:45 AM
By Mark Washburn / October 6, 2017
Comment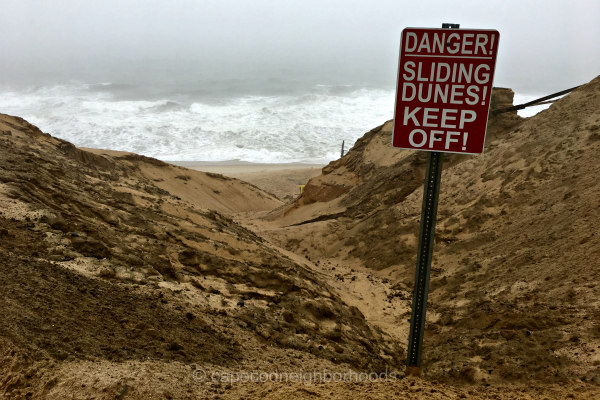 The Beachcomber is now closed for the season and Wellfleet town leaders are still working on a solution to a recent dune collapse at Cahoon Hollow Beach. A large dune in the front of the popular beach bar & restaurant collapsed in August following heavy rain.

The car ended up about 20 feet down in the sand and had to be pulled out the next morning. While luckily no one was injured in the collapse, local officials did put up barricades across the rest of the parking lot and out on the beach to keep people away from the immediate site.

The closure now prevents people from parking in what remains of the town-owned parking lot and from using the primary beach entrance. Not long after the collapse happened Wellfleet selectmen met in a special meeting to address the damage and a temporary pedestrian path to the beach was opened up, with signage directing visitors how to safely access the area.

Crews were also able to dig a lifeguard stand out of the slide and a Facebook post is encouraging beachgoers to come back to the area and enjoy some of the final days of summer weather. Meanwhile, the busy oceanfront restaurant and bar is open too, with parking allowed in the building's back lot and a shuttle running from another nearby beach parking lot to the location.

While its not the first time the giant sand dune has faced erosion issues, it is one of the most significant, as of late. The current beach pathway is, of course, only a short-term solution to the problem.

For several years the Outer Cape has dealt with issues related to erosion. Storms and runoff have left their mark on parking lots that face the Atlantic, like the one at Cahoon Hollow. While fixing drainage issues may help short-term, it's now up to local leaders to come up with a more long-term fix to the problem.