Billingsgate: A Forgotten Cape Village
Posted by Mark Washburn on Monday, January 23, 2017 at 11:40 AM
By Mark Washburn / January 23, 2017
Comment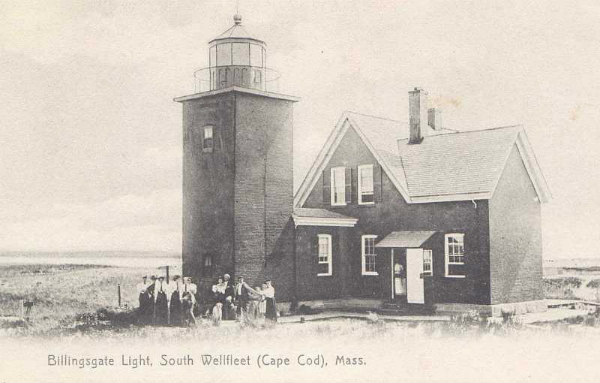 Once a small island filled with dozens of homes, a lighthouse and even a schoolhouse, Billingsgate Island is now virtually a "forgotten" Cape village, living on mostly through old stories and periodically revealed, in part, during periods of low tide. That's due to the fact that the 60-acre island has been submerged under the water now for more than 70 years.

The story dates back, though, to the 19th century when Billingsgate, also known by some as Bellingsgate, was known as a prosperous fishing community. A favorite location for whaling and fishing, the island once included around 30 homes, a school, a baseball team and the Cape's second lighthouse.

In the mid 1800s a ferocious storm split the island into two, and a new lighthouse was constructed on higher ground. Over the years, though, it was evident that the tides, shifting sand and strong storms were together causing irreversible damage. When a newly erected seawall failed to keep the water from rushing in, the lighthouse was abandoned, and then soon destroyed by another storm.

By the early 1900s most residents of Billingsgate had all moved away, some of them actually floating their homes over to nearby Wellfleet. These days a handful of the old Billingsgate cottages are still standing there. The island was later made a bird sanctuary, however eventually the land succumbed to the tide too, becoming fully submerged under the water by the early 1940s.

While the buildings that once stood on the island are no longer there, visitors can still see the remnants of some of the old structures during low tide. It's a popular location for shell fishing and picnicking, reachable by boat at the mouth of Wellfleet Harbor and viewable from Jeremy Point. Though the area is now most commonly referred to as Billingsgate Shoal, it remains a special place for anglers and for viewing at least a small part of history along the Cape.