Best Antique Shops on the Cape
Posted by Mark Washburn on Monday, October 5, 2015 at 6:40 PM
By Mark Washburn / October 5, 2015
Comment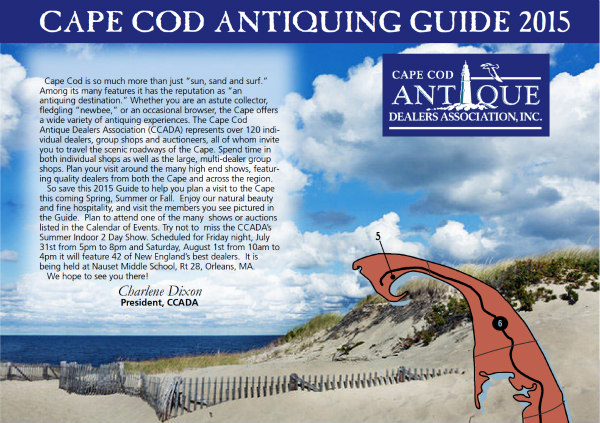 Cape Cod is a great place to find some unique gifts you won't find anywhere else. From vintage finds to estate pieces, you are sure to find a great selection of items for sale. We uncovered some of the best antique shops you won't want to miss while on the Cape.

Wisteria Antiques - Brewster

While in Brewster, make plans to make a stop at Wisteria Antiques. This beautiful old Victorian is itself enough of a reason to stop, but what you'll find inside is just as magical. The restored home is more of a boutique or even a museum than an old antique shop, packed with beautiful items everywhere you look. You'll find a great selection of artwork here, including hand-painted porcelain, plus antique costume jewelry and even some stunning oriental rugs.

Harwich Antique Center - Harwich

For some of the most unique collectibles on the Cape, be sure and head to Harwich Antique Center in Harwich. Right along Route 28, this shop includes an eclectic mix of items, on display from 100 different vendors. Make sure you give yourself plenty of time to look around, though, because you never know what you'll uncover here.

Antiques Center of Cape Cod - Dennis

With more than 200 dealers, Antiques Center of Cape Cod is a fantastic destination in Dennis. The location offers new selections each month, with shipments imported from Europe. No matter whether it's the busy summer season or the off-season, Antiques Center of Cape Cod continually brings in the crowds.

Continuum Antiques and Collectibles - Orleans

For an amazing selection of antique lighting fixtures, you will want to head to Continuum Antiques and Collectibles in Orleans. This unique shop has been a fixture on Cape Cod for decades. The store specializes in restored Holophane shades and fixtures, but also carries an impressive number of other fine makers and designs.

Windsong Antiques - Harwich Port

Finally, head to Harwich Port for an unforgettable visit to Windsong Antiques. This location features a constantly changing selection of high-quality antique goods. You can expect to find sterling silver, early English ceramics, art glass and postcards. This family-owned business is located along Route 28, and welcomes collectors, dealers and visitors simply wanting to browse the impressive collection.

From coins and artwork to jewelry, ceramics and lighting, you are sure to find just what you are looking for, browsing the aisles upon aisles of some of Cape Cod's most impressive antique shops.