Barnstable Brick Company Was Former Giant in Cape Cod Businesses
Posted by Mark Washburn on Tuesday, July 19, 2022 at 5:20 PM
By Mark Washburn / July 19, 2022
Comment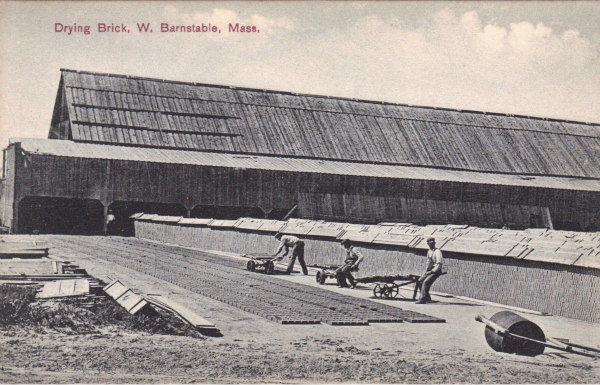 Photo: Barnstable Patriot
Once a giant in the world of Cape Cod businesses, sadly the West Barnstable Brick Company of today is little more than some broken bricks littering the ground where the company once stood. Still, the business had a big role in Cape history.
That history dates back to the late 1800s when the West Barnstable Brick Company was first formed. Although accounts vary, most agree that the company was capable of producing millions upon millions of bricks each year.
It wasn't long before the business grew and was operating at full capacity. One of the company's leaders also owned several other properties in town and used the brick building company to help construct sheds for his cranberry business.
While the brick business was booming, the company was left to deal with a couple of tragedies involving those connected with the company and also some setbacks. Some reports suggest one big problem may have had to do with the new standard size of bricks.
When then President Herbert Hoover signed into law a new regulation on the size of bricks, the company found its equipment was only capable of making bricks that were slightly too short. To compensate, West Barnstable Brick Company needed to buy new equipment and raise its brick prices.
This, unfortunately, came right around the time of the Great Depression. It wasn't long before the brick company's reign ended in foreclosure.
During some of the company's most profitable years it made a larger brick stamped with "W. BARNSTABLE BRICK CO.", but most of the standard bricks produced by the company contained a smaller logo stamped "W.B.B.".
These days in West Barnstable you may still find some broken bricks littering the ground where the company once stood. If you ever visit Dearborn, Michigan, an old steam engine from the plant now sits in a museum. It was obtained by non-other than Henry Ford himself.